Important news & updates
Saturday, August 3 2019, was the last pickup for glass. Recycling markets have plummeted.  My vendors will no longer accept the glass. I cannot find another place to take it.
I am truly sorry for this. I have worked diligently 7 days a week for over 8 years to encourage recycling. I worked hard to develop a way to recycle glass in Enid. I think it will become an option again later, but not until markets improve. Glass always takes a hit when times get tough. The City of Enid stopped taking it in 2007.
If recyclers have prepaid for glass service, I plan to add a credit to their account for any unused portion. This credit will be applied to future weekly recycling. If this is not acceptable, the customer may contact me for a refund.
____________________________________________
KEG provides curbside recycling services to Enid, OK residents for $12 monthly or $120 for an entire year. We are able to recycle:
Cardboard
Paper
#1 and #2 plastic bottles and jugs
Tin cans
Aluminum cans. 
Check out these amazing ads created by local elementary school students!
Like us on Facebook! https://www.facebook.com/keepinenidgreen/
To sign up for residential service, call, text, email, or send Facebook message with your name, address, and phone number.  Subscribe at https://keepinenidgreen.com/subscribe/  I will then bring you a collection container, list of recyclable materials, and an invoice. It's that easy to recycle with Keepin' Enid Green!
(580) 603-2252
www.facebook.com/keepinenidgreen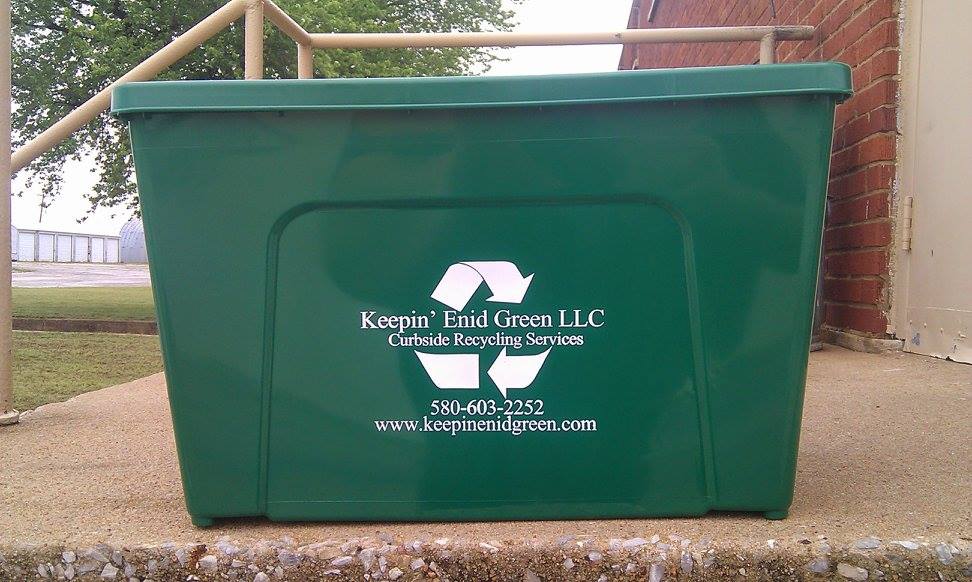 Residential Recycling
Weekly residential recycling pickup for only $12 per month or $120 for an entire year!
Weekly commercial recycling pickup starting at $20 per month
Did you know?
DID YOU KNOW?
Recycling directly or indirectly employs over 100 people with developmental disabilities who would otherwise have difficulty with gainful employment.
Recycling generates over $250,000 back into northwestern Oklahoma.
DocuGUARD/SCL/KEG recycles and diverts over 2,500,000 pounds annually
DocuGUARD/Supported Community Lifestyles (SCL) contracts with the City of Enid and Keepin' Enid Green Curbside Recycling to process all of the materials. These partnerships are critical to providing valuable life experiences, training, and independence to some of Enid's most fragile citizens.

Next Step…
Call or signup for service today!